The Body Window

› My Outdoor Adventures
My Adventures in the Great Outdoors to Rediscover Myself

Getting out in the great outdoors will truly help you reconnect and find your true self!

'Are not the mountains, waves, and skies, a part of me and of my soul, as I of them?' ~ Lord Byron
Is there anything more healing for your body-mind-soul than getting out? For me, at least, it is the way that I can reconnect with all that is real, and rediscover myself. Without my adventures into this vastness of the Universe, I doubt I would be able to keep my sanity.
Throughout my website, you may have noticed the many photos of the great outdoors that I have taken. Every chance I get, mostly in the summer, but often in the winter, I run to the mountains of Colorado. I am lucky that there is much to do here, year round, in regards to outdoor recreation.
Healing my own body-mind-soul has been dependent on my getting to commune with the great outdoors and what I call the Cathedral of Nature.

I created this section of my website, just to chronicle my outdoor adventures and share what I love with you, the reader. I hope that you enjoy my articles on my excursions in the outdoor world and become inspired to create your own!
I credit my father, an avid outdoor sportsman and nature lover, for instilling in me this great love of beauty that surrounds us everywhere! In loving memory, my thoughts go to him often when I am outdoors in nature. I hear his words to me as a girl stumbling through the woods, giving me tidbits of advice here and there. I so adored our hikes as a family when I was growing up.
I am also very fortunate to be a co-owner of 70 acres where we live, with amazing vistas of the Sangre de Cristo mountains of Southern Colorado, that extend well into Northern New Mexico and the Taos/Santa Fe areas. If you spend any time on my website, you will see many views of these mountains!

I hope you enjoy the many photos throughout my website of the mountains, lakes and wildflowers, and the articles that I add periodically when I make my outdoor escapes.

Tell me about your outdoor adventures and add pictures of beautiful places in your submissions. I would love to be inspired to travel to new outdoor adventures, as I am sure all those who read your article will be as well!
May the great outdoors soothe your body-mind-soul as much as it does mine! So just get out there … !!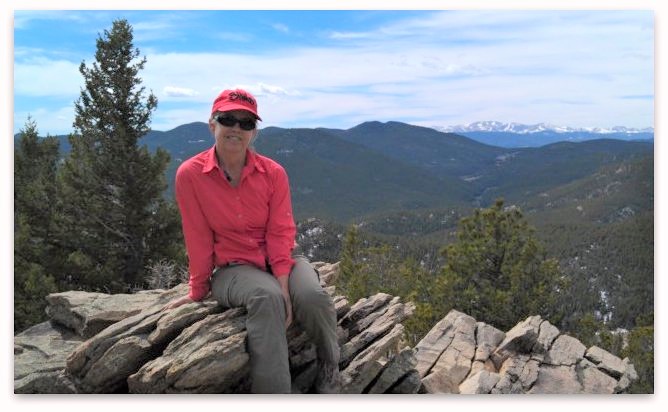 Here I am at Windy Point in the Golden Gate Canyon State Park, Colorado
My Personal Adventures in the Great Outdoors:

Can't find what you're looking for? Search this website:
The Body Window

› My Outdoor Adventures
---
---
Support This Website and Its Mission
Thank you so much for considering a donation to help support this website. I appreciate your thank-you for access to so much free information. It is because of you, that I also am able to assist others who do not have the means and who are unable to afford my consultative services. If you feel you have been blessed by this website, thank-you for your donation! I promise, that I will continue to provide you with lots of information and pay it forward to all in whatever way I can!
---
© Copyright 2009-2019, by Elle Bieling, BodyWindow.com
All Rights Reserved
Protected by Copyscape Plagiarism Checker ~ Do not copy content from this page. 
---
Information on this website is not intended for medical advice. See your health care provider for any health concerns. By using this website and/or practicing any yoga postures, foam rolling exercises or other physical movements contained herein, you are agreeing that you are in good health, cleared by your healthcare professional to participate in physical activities and you release The Body Window from any liability involved in the practice.