The Body Window

›

Simplify Simplify

› Simplify Your Home
Simplify Your Home!

Take the metaphorical journey to simplify life when you simplify your home.
As you simplify your life, the laws of the universe will be simpler; solitude will not be solitude, poverty will not be poverty, nor weakness, weakness. - Henry David Thoreau
If simplifying your home is your goal, there are many ways to organize, declutter and clean out. Take the time and create the space to clear the physical clutter that is a metaphorical representation of your life.
If you have read my other simplifying articles (see complete list at bottom of page), hopefully you have already begun the process of cleaning out your clothes drawers and closets. A true cleansing of your body, mind and soul has begun. Take it to the next level – your entire house.
You will be amazed at how you can simplify life and bring more peace into it, just by organizing and cleaning out the clutter when you simplify your home.
By cleaning out our "house" we make room for all that is new and wants to be present in our lives!

Your Drawers are a Reflection of You!

Keep cleaning out the skeletons in your life as you simplify your home. Set a goal to go through every room in your house, one at a time. Maybe one room a week, or one room a month, whatever works for you.
Simple living is about getting rid of all that no longer brings you value. Keep only those things that have use to you and bring meaning to your life.
Go through every drawer and every closet in every room and toss the stuff that you'll never use again but are saving for that right moment… Yes, you all have 'junk drawers' in the kitchen, in the garage, in the basement, in the bedroom… Some of you even have entire junk rooms and/or junk storage units!
When you simplify your home, commit to getting rid of at least half the junk in each drawer. If you find items that are collectible, and have no sentimental value, sell them. If they have sentimental value, consider displaying them or giving them to someone who would appreciate them.
A good rule of thumb is, if you haven't touched the item in 3 years, you probably will never use it again.
If the screwdriver is in the kitchen junk drawer, you may want to relocate it to the garage. If the kids are grown and those Halloween cookie cutters made sense 10 years ago, give them to your children for their kids. You can always rendezvous in your children's house to make cookies with the grandchildren. You don't want the mess in your house anyway!
Rethink the junk as you simplify your home. Keep only what has real meaning to you. If the cookie cutters bring you joy and you love to bake and take cookies to neighbors and to church functions, by all means keep the cookie cutters.
If you have so much stuff that you don't want, that you could actually hold a garage sale, just choose it and do it! One man's junk truly can be another one's treasure. That is why garage sales work.
You can make some nice change at a garage sale. It is a lot of work, so make sure you really want to do it. Or just haul it off to your favorite charity and get the tax deduction instead if you don't have the time or energy for the garage sale. Make sure you itemize everything and keep it in your tax file in the event you get audited.
Don't just fill up the landfill when you simplify your home. If your items have value, sell them or give them away.
Always remember, to keep what has meaning to you and remember the rule of thumb is to identify all that is important to you and eliminate the rest! Your body-mind-soul will thank you for it and the space you just might clear is your peace of mind! When you simplify your home you simplify life!
Is Your Garage a Reflection of Your Life?

Take an especially hard look at your garage when you simplify your home. Now there is a place that is a direct reflection of your life! The clutter, the dirty rags thrown on a pile to one side, the greasy pile of tools, the sports gear, the muddy boots and the smelly cat box are all waiting for 'someday' when you'll clean it up – the 'someday' that never comes.
You just toss it all in a pile, out of sight, out of mind, right? How often, then, when you want to find the bicycle pump, do you have to frantically rummage through the clutter to find it?
The piles tossed in the corner never solve the problem. Remember the Nothing is Hidden issue? Your physical clutter becomes your metaphorical clutter of your body-mind-soul.
Your garage is a reflection of your issues. Your garage is a reflection of the 'space' you lack to clean up and organize your life and create time for yourself 
Most American's garages are unable to hold the cars they were designed to hold. As I walk through neighborhoods, the number of cars parked outside the garage is amazing. Either everyone has more than 2 or 3 cars or most likely, the garage is so full that the cars won't fit. I often validate this when I see what's inside when the garage door is opened!
You either use your garages to store all your junk, or you rent additional space at a U-Store-It to do the task. I am continually amazed by all the different facilities listed in the business pages that are available to store your junk for you. Now it really can cost you additional resources to store your 'skeletons in the closet.' Talk about craziness.
Your house and your garage is getting bigger and bigger, and you still don't have enough room to store all your junk. To make matters worse you need to face the fact that you will never use a lot of your stored items again! If this describes you, it is definitely time to simplify life and simplify your home!
Examine the cost that obtaining and maintaining has on you and your body-mind-soul!
If you honestly haven't taken that boat out for 4 years, is it time to stop worrying about the insurance, the storage costs and the upkeep and get rid of it?
Do you need the bedroom furniture that your kids grew out of, or would 50 bucks from the garage sale, plus the saved storage cost serve you better?
Will grandma's china and silver ever be admired again? Can you simplify your home and your cleaning time by putting it away, nicely stored in containers or should you consider selling it or giving it away?
My sister lives on a farm. With all the sheds on their property, it was easy to let the junk get away from them. They decided to simplify life, and cleaned out one of their sheds. Then they advertised the weather worn wood of the shed itself. A contractor purchased it from them. Not only did they create more space for their new lives, but pocketed a handsome sum in the process. Maybe she should have rented out their shed for your junk! I will do a cost-analysis for her for her next shed!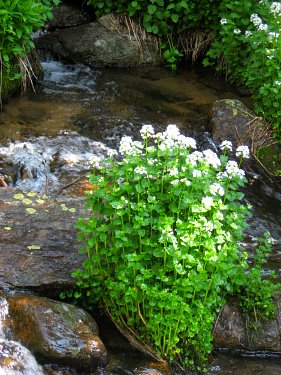 Every few years my husband very methodically goes through his tools, reorganizes them, cleans them, gives some to his son, and gives some away. His tools just seem to grow on their own. As a mechanical engineer he is always tinkering with something. Even though he makes a mess, he will always clean up after himself. Sometimes the cleaning takes place several days or even weeks later, but he always does it. I am so grateful for this!

If you do the organizing job as you go along, it will be so much easier. Just commit to keeping up every few weeks or months, instead of an organization job that has been ignored for years. Makes one wonder about the state of you body-mind-soul! Simple living is about life being easier, and everything flowing better!
Consider a ritualistic cleaning out of the cob webs every spring and fall as you simplify your home on an ongoing basis. Make it a habit. It will do your soul good! The effects on your total body-mind-soul will be noticeable as you simplify life!
Low Maintenance Landscape

Consider xeriscaping your home's landscape. If you plant low maintenance, low water-loving, indigenous plants, the garden will mostly take care of itself. Your local botanic gardens and the web have plenty of information on this subject.
When you simplify your home and its landscape you will save money, save time and save the planet through conserving the valuable resource of water.
Consider stones instead of grass, especially in the arid West and Southwest. Even if you don't live in an arid area, you may want to consider landscape that does not need a lot of maintenance or water and does not need to be mowed.
Think hardscapes, stones, wood chips, decks and patios. Consider a smaller yard, a smaller lot that requires less maintenance, or a townhome or condo.
Buy trees with small feathery leaves so in the fall they won't have to be raked, but can be mowed up with the mower.
If you have to water your landscape and can afford an automatic sprinkler system, it will save time, money and water. Make sure you set the watering for the days that your area recommends and never water during the heat of the day when most of it will evaporate.
Cut down as much as possible on as many plants that need to be watered.
If you love your green, well-manicured garden I hope you can either afford to pay someone to maintain it or love maintaining it yourself.
Do an Energy Review

When you simplify your home consider the money you spend that is literally going out the window. Seal your windows and doors with weather stripping, caulk and plastic. Add a layer of insulation to the attic. Contractors state that this is the single-most efficient and cost-effective thing to save on energy costs.
If you can afford to upgrade your windows and exterior doors, do so to change them to storm doors and windows. Your local utility company should have all these suggestions and more on their websites. Read their flyers they send to you with their bills if you do not have electronic billing set up yet, which I encourage you to do (See Simplify Your Money).
Consider going green with solar energy. Solar panels are getting cheaper and cheaper and more sophisticated all the time. If you can afford to do it now is the time. Depending on how long you are in your home, it could provide eventual savings.
How to Simplify Your Home When You Clean Your House

Hopefully you have already made a commitment to simplify your home by now. You can go even one step farther, if you hate cleaning house.
Seriously look at the knick-knacks around your house. Are they prized pieces collected from afar, or are they ego representations? Do they have real meaning to you? If they don't have meaning to you get rid of them in your garage sale or your donation to charity. Make sure that what you choose to display are more than just dust collectors.
Have only a few pieces that are large and easy to dust in each room. If you are a collector of small things like figurines, hand carvings or other small items, store them in a cupboard that is dust-proof to show them off, but you only have to infrequently dust. If you do this to simplify your home, dusting will become a breeze.
Housekeeping experts recommend that you deep clean your house twice a year, spring and fall. If you do this you can reduce your cleaning efforts to a minimum if you keep after it on a weekly basis. That means every week you do a light cleaning: light vacuuming and light dusting. Daily wipe down kitchen counters. Every few days wipe down your bathrooms. Keep cleaning supplies handy so you will do it. Teach your children to wipe down their bathrooms. Mop the floors as needed, but on a regular basis.
Then twice a year, move furniture to vacuum behind them. Scrub all the floors, shampoo carpets and deep clean kitchens and bathrooms, clean out the fridge and oven and coffee pots and toasters. Wash the windows.
If you can afford to hire out the deep cleaning and the window washings, do it. Then you only have to manage the light cleaning. This is a great way to simplify life when it comes to cleaning your home.
Add cleaning out the garage to your biannual ritual as well. Put together a plan.
Feel good about cleaning out your physical environment and reap the metaphorical results as well. When you simplify your home and clean out the cobwebs, the process cleanses the body-mind-soul!
You now have more time for yourself!
More Information on How to Simplify:

Can't find what you're looking for? Search this website:
The Body Window

›

Simplify Simplify

› Simplify Your Home
---
---
Support This Website and Its Mission
Thank you so much for considering a donation to help support this website. I appreciate your thank-you for access to so much free information. It is because of you, that I also am able to assist others who do not have the means and who are unable to afford my consultative services. If you feel you have been blessed by this website, thank-you for your donation! I promise, that I will continue to provide you with lots of information and pay it forward to all in whatever way I can!
---
© Copyright 2009-2019, by Elle Bieling, BodyWindow.com
All Rights Reserved
Protected by Copyscape Plagiarism Checker ~ Do not copy content from this page. 
---
Information on this website is not intended for medical advice. See your health care provider for any health concerns. By using this website and/or practicing any yoga postures, foam rolling exercises or other physical movements contained herein, you are agreeing that you are in good health, cleared by your healthcare professional to participate in physical activities and you release The Body Window from any liability involved in the practice.