Declutter and Simplify Your Wardrobe

If you simplify your wardrobe, you can find health and healing of your body-mind-soul by ridding yourself of your skeletons in the closet and decluttering your life!
'Simplicity is the ultimate sophistication.' ~ Leonardo DaVinci
It may be time to simplify your wardrobe if your clothes closets and drawers are looking like a tornado hit them or maybe mice would love them as a nest. Or perhaps it is time for you to have a hard look at the 'skeletons in the closet.'
Your closets are most likely a space where you feel you need to make some changes, but like everything, the size of the task has put you off. Like most body-mind-soul issues, you don't realize the power of a few simple changes to turn around your downward spiral or at the very least lift your spirits. Yes, it is true, even for a simple thing like cleaning out your closets. 
When you simplify your wardrobe, your body, mind and soul will thank you for your efforts. Your body will not have to store its clutter issues or your skeletons in the closet anymore, if you clean out your closets.
There is healing for the body-mind-soul in doing simple things to declutter and de-stress your life. When you simplify your wardrobe you will simplify your life. The metaphor of cleaning out your closets will help you clean out the cobwebs in your life. It is the process of cleaning out the old and making space for the new!

Commit to spending an afternoon on a rainy or snowy weekend to just get in there and make a change and simplify your wardrobe. If you spend an afternoon, to just choose it and do it, you can set up an easy maintenance program.
Once the organization is done, commit to a bi-annual spring and fall clean out to keep the spirit going. It will do wonders for your outlook, and you will know that you are caring for yourself, by getting rid of your past lives in all their aspects – physical, emotional and spiritual.
The biannual cleansing of skeletons in the closet is a great metaphorical journey. The decluttering process is truly a cleansing process!

I had an outfit that tied me to a particular nasty event that happened to me at work. I subconsciously would not want to wear that outfit because it always reminded me of the event. When I realized what was happening I got rid of the items immediately.
As I write this I recall that I still have a pair of shoes that when I look at them they always remind me of a job in a past life. The past job and past life are ones that I would never return to now that I have found a new passion. I haven't thrown them out yet, because they still look good and have lots of wear on them. By writing this, I am committing to getting rid of this skeleton in my closet. I will just choose it and do it. The skeletons in the closet are real.
It's time to take a hard look at your skeletons in your closet and simplify your wardrobe:
Do you really need to have closets and closets full of clothing that you may get around to wearing one day? To simplify your wardrobe, go through your clothes, drawer by drawer, closet by closet and give to charity anything that you haven't worn in 2-3 years.
Commit to yourself that when you purchase new clothes (always purchasing within your means), if you buy two things, two things have to go. Remember 2 in 2 out, 3 in 3 out and so on. By doing this you will always be keeping the clutter down and be wearing the newest, most fashionable and most likely your favorite clothes. Following this rule is one of the easiest ways to simplify your wardrobe.
Skeletons in the Closet

Hanging on to that sweater that you paid $150 for 10 years ago, which no longer goes with anything you own is like choosing to march through the desert with no water. It makes no sense. You force yourself to believe that 'one day' you will wear it again and you have to wear it again because you spent so much on it.
I know a person who is retired for almost 20 years who saves all her business suits, because she might need them one day.  If this is you, you have some real letting go issues!  Why not clear out, declutter and find newness instead?

It is also time to get rid of the size 4 clothes you wore 10 years ago and will never fit into again! Try to be realistic about where you are in your life now when you simplify your wardrobe.
I know you want to believe that you will lose that weight, but most likely it isn't so! If you DO lose the weight, and I sure hope you do, go treat yourself with some new clothes that will lift your spirits even higher and keep you on the right track!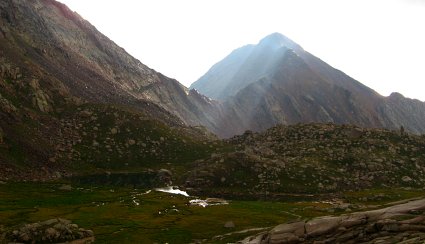 A Ray of Light over high alpine lake, called Bow Lake, under Jagged Peak in the San Juan Mountains of Colorado
The only time you should save your clothes for many years is if you truly have favorite pieces that you love, and you still wear all the time. The other exception is clothes you wear for parties, weddings or other special occasions.
Don't fool yourself to believe that clothes are 'investments.' Most likely you are constantly adding to your wardrobe, unless you are truly Ivy League and wear only classic clothes. Men do have it easier, and have more classics, but they generally don't purchase as many clothes as women do.
Go through the 'skeletons' in your closet. Make room for the clothes that you actually wear and that mean something to you. Get rid of past lives in your closet that are no longer you. Downsize and simplify your wardrobe wherever you can. Don't clog your life with outdated, unused or 'investment' clothing you will never wear again. It will do your body-mind-soul good!
Examine Your "Fashion Statement"

Do you really need to change your wardrobe every year? Every season? Does the fashion industry dictate who you are, or does something in your higher consciousness??
One of the good aspects of modern life is that we have way more fashion choices. Never in my lifetime do I remember such an array of styles as we have now!
I can purchase a skirt in almost any length that is most becoming to my body type or to fit my mood. I can purchase trousers in any fit, from skinny to palazzo! And so can you! That means that you really truly can wear items for more years than before. Finally, a break in fashion!

If you love fashion, but are on a limited budget, or just want to declutter your wardrobe, don't base your wardrobe on fashion extremes. Buy more middle-of-the-road items. So, when the waistline drops to middle of your hip, find a more moderate style that lands somewhere in between your waist and the middle of your hips. 
As I discuss below, always treat yourself to your most desired fashion items, though, so you don't go on a binge. But do examine your values and your life's goals in regard to your budget, your health and your Spirit before you make a purchase. 

Simply put, do not be a slave to fashion, but listen to your own Spirit (Don't even get me going on high heels!)

Think Neutral

The easiest way to declutter and simplify your wardrobe is to build around neutral pieces. It will save you money too if you are on a tight budget. If you stick to neutral colors for the basic skirts, slacks and shorts, dressing will be a breeze. Every top will color coordinate, without even having to think. Plus, if you use the darker neutrals, you will look slimmer.
Do you prefer black or brown, navy or grey, or khaki and white in the summer? Pick one or two neutral colors for each season, depending on your budget. Coordinate everything else with your neutrals. Most things that go with black pants also go with brown pants. The same is true with most colors with any neutral color.
You may decide that you want predominantly warm neutrals, i.e., brown and khaki, versus the more cool neutrals, navy and grey.
I put black and white in a neutral category all by themselves, because they go with absolutely everything, warm or cool. If you build your wardrobe around black and white only, you will never have to coordinate anything. This is a really easy way to simplify your wardrobe!
Jeans are also in a category all by themselves, because they go with absolutely everything too! Just decide how many pairs of them make sense to you, depending on how much you wear them. Get rid of the ones you haven't worn in 2-3 years, for whatever reason!

To get started: First, go through all your clothes and pick out your neutrals. Lay them on the bed. Decide if you have to get rid of old, worn or haven't-worn-in-2-years pieces.
Count which neutral colored garments you have the most of and make them your base neutral colors. Hopefully your neutrals are the skirts, slacks and shorts - all mostly bottoms. If they are not, think about purchasing for the future, bottom neutral pieces. Stay within your budget, always (See Simplify Your Money). For men, it is really easy. Most likely this is how your wardrobes are already.
Next step to simplify your wardrobe is to go through your non-neutral, brightly colored clothes. Don't worry if you have many items of different colors, because you are going to build your wardrobe from here on out. Keep the yellow capris and coordinating yellow striped blouse, because it is probably a color you love. Decide which non-neutrals are keepers and which ones are old/worn/not worn in 2 years. Get rid of them.
Now look at what you have left. Decide what you need to purchase, if anything to complement what you have and put it on your wishlist. If you have enough clothes, good! You are done with your project! You have decluttered! You have organized to simplify your wardrobe!
Accessorize to Add PIZAZZ

If neutral seems too boring, buy accessories and brightly colored tops with different prints and patterns. Use scarves and belts to add to your style. Change an outfit with chunky, colored jewelry for one look, and brightly colored scarf for another. Always wear your best colors close to your face, so it will shine.
Always have several garments that are impractical, very colorful or expensive for your budget.
Do this for the same reason you eat your comfort foods once in awhile, so you don't feel deprived. It will truly make you feel better. Just make sure that to really care for your body-mind-soul that you will not regret your purchase decision in the morning!
If you are on a tight budget, cruise the consignment shops, garage sales and charity stores. Consider swapping clothes with you sisters or friends. You can always make a pact to return items to the original owners.
Often I buy clothes online when I find a great sale. Invariably I get something that is too big or small, the color wasn't what I expected, or I looked lousy in it. I give these items away to friends because I don't want to bother sending them back. Then they do the same for me. It's kind of fun to get unexpected items like this. We keep the process going.
If you keep a neutral base of clothes, your packing for travel will always be a breeze!
Simplify Your Wardrobe with Seasonal Rotation

If you have tight closet space, a small apartment or really do live in an RV, most likely you do not have enough space for winter clothes and summer clothes.
To stay organized, I have two large enclosed plastic storage closets in our storage shed on our property that I exchange seasonal clothes. I also have cedar chests in this storage area for winter sweaters, turtlenecks, ski clothes and other seasonal items. Inexpensive plastic bins at the discount store work great too!
Every spring and fall I pull out the seasons clothes, and put the past seasons away. Since my closets are very small this is mandatory. However, you may consider this merely to declutter. If you have a cedar chest or a spare bedroom closet available they will work well. Throw in the cedar blocks if needed to keep the clothes fresh until the next season.
When I do my seasonal rotation of clothing I re-evaluate my clothes and simplify my wardrobe. The clothing I haven't seen in 6 months or so feel fresh and like new to me. I also decide on what needs to go and what I will keep. That way I always stay organized. What goes can be replaced with new items, according to my budget. 3 out, 3 in or 2 out, 2 in!
Hate Ironing? – Easy Time and Money Saving Way to Avoid Ironing Clothes

I learned this simple trick while living off the grid. In order to save energy I never used an iron. I love this method because I hate ironing and use it whenever I can. This method works really well for travel too! I usually choose easy care clothing that requires little ironing anyway.
I have a washer that is hooked up to solar power, but a dryer is too energy-intensive, so I hang out all my clothes in the sun. While the hanging smooths out most wrinkles in easy-wear clothes, sometimes after hanging in the closet they need a boost.
If you happen to use a dryer, if not watched closely, the clothes invariably come out wrinkled because they haven't been taken out in time. If they are taken out in time, often folding them and placing the in the laundry basket when they are still warm changes that!
Each night before I go to bed, I plan which clothes I am going to wear the next day. I hang them on hangers and lightly spray them with water from a little spray bottle I always keep handy (Make sure if the garment is silk, that you ensure the water will not make water stains!!!) The weight of the clothes on the hanger pulls the wrinkles out as it dries overnight! Presto! Wrinkle free!
This method works especially well for knits and light cotton clothing. Gently smooth out the garment after you spray it as well. Hang pants so they are folded inseam to inseam, lined up with the crease before you spray it. The spray method will never put a strong crease in your pants. An iron will be necessary if you require that, but it works great for casual and knit clothing that does not need a crease.
Lightly spraying your clothes with water may not work if you live in an extremely humid area, where the garment won't dry overnight. If you have access to a dryer it should work to dampen the clothes and put them in the dryer for a few minutes on a low heat spin, for a wrinkle-free garment.
I do pick easy to care, knit clothing, including dresses and skirts that travel well too. You can simplify your wardrobe if you always think about buying easy care clothes. A light spray on them overnight, makes them fresh and wrinkle-free in the morning.
Another trick to avoid ironing: try tumbling your clothes you would normally hang up, only long enough to tumble out the wrinkles. Then while still damp, hang them up on hangers to let them dry. You will save huge on your energy bill and you won't have wrinkled clothes.
I hope you feel better just thinking about how organized, decluttered and refreshed your life is going to be! It feels great indeed to get rid of the skeletons of past lives, past eras. If you simplify your wardrobe, it is just one more way to simplify your life. Your closets will be one less thing to weigh you down.
Just choose it and do it! It will do your body-mind-soul good! Organize and simplify your wardrobe today!
More Information on How to Simplify:
Can't find what you're looking for? Search this website:
---
---
Support This Website and Its Mission
Thank you so much for considering a donation to help support this website. I appreciate your thank-you for access to so much free information. It is because of you, that I also am able to assist others who do not have the means and who are unable to afford my consultative services. If you feel you have been blessed by this website, thank-you for your donation! I promise, that I will continue to provide you with lots of information and pay it forward to all in whatever way I can!
---
© Copyright 2009-2021, by Elle Bieling, BodyWindow.com
All Rights Reserved
We also hereby confirm, as stated in our Privacy Policy, that we do not sell personal information of any kind. 
Protected by Copyscape Plagiarism Checker ~ Do not copy content from this page. 
---
Information on this website is not intended for medical advice. See your health care provider for any health concerns. By using this website and/or practicing any yoga postures, foam rolling exercises or other physical movements contained herein, you are agreeing that you are in good health, cleared by your healthcare professional to participate in physical activities and you release The Body Window from any liability involved in the practice.