Body Moments ~ In the Moment for Repose in the Hammock!
Issue #022 - August 27, 2012
Centennial Goal Progress (Top 100 Peaks in Colorado)
"After climbing a great hill, one only finds that there are many more hills to climb." ~ Nelson Mandela
I am happy to say that my husband, Rich, and my dog, Avie and I were able to find time to escape the rat race of Denver and take a much-needed 2-day backpacking trip into the San Juan Mountains, the Weimenuche Wilderness area to complete our 95th Centennial Peak in Colorado. The Peak was Rio Grande Pyramid, and yes, it gets its name due to its proximity to the headwaters of the Rio Grande River.
It was an arduous backpacking trip, but well worth the effort. Again, we were not welcomed with clear skies, but the fog on the mountaintop did add an eeriness, if not the usual grand views.
You can see my Rio Grande Pyramid Album by clicking the link to Facebook. The pictures really do tell the story!
For me, mountain climbing is one of the most significant ways in which I reconnect to all that heals my body, mind and soul! A foray into areas which man has not touched is a special experience that never fails to re-connect me with God.
You can follow the fun, if you like, on Facebook at Body Window. If anyone wants to join me on a hike, please let me know!
In the Moment with the Hammock Pose, for rest and restoration of your body-mind-soul!
It has been awhile in my newsletter that I have offered a more restorative body moment. While doing yoga of any type, if done consciously, should restore and renew you, some poses require more physical energy than others.
The Hammock Pose is truly a deeply restful and relaxing pose whose purpose is to deeply renew you by taking you inward to help you re-connect to yourself.
I have not yet found an individual who does not love the Hammock Pose. Just its name relaxes you, doesn't it? The pose is so easy! All it takes is the time to do it and ayoga strap. If you don't have a yoga strap you can try to fashion two belts together to get the same effect.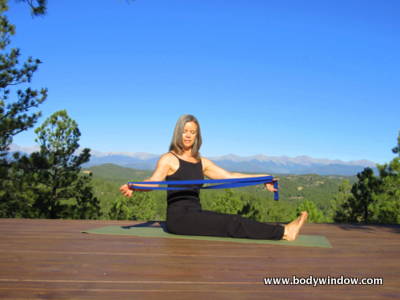 Making the loop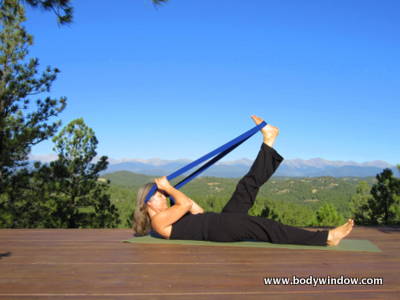 Loop around foot and at base of skull
Relax and enjoy!

To do this pose you need to make a loop with your yoga strap as shown. Make it so that it is an extended arm's length when looped.

While sitting on your mat or on the floor, with your legs extended, loop one end of the strap around the ball of your one foot. Make sure the buckle is not on your foot. Then keeping your leg bent at the hip and knee, bring the other end of the loop to rest at the base of your skull.

It is important to make sure the strap is on your bone and not on the soft tissue of the neck or this may hurt your neck after awhile. Make sure the buckle is not on your neck either.

Now rest back and straighten your leg. The counter pressure of your leg against your head will form a hammock and allow you to totally relax without any effort.

If you cannot relax without effort, re-adjust your strap to a comfortable spot and try again. It may take a few tries to get it right.

I love the feeling of the hammock. I feel comfortable and supported like a baby in a cradle. In fact, this is what it is. A Yoga cradle!

Deeply relax and sink into your personal yoga cradle. Focus on your breath and begin to inhale fully and exhale completely. Slow down the rhythm of your breathing as you relax even more.

Make it your intention to completely let go. Intend on emptying your thoughts. If thoughts come in, turn them to the gratefulness you feel for taking this precious body moment just for yourself!

Stay in this pose for as long as you are able or as long as your heart desires. Switch your legs and spend some time on the other side as well, ensuring that you are balanced.

While holding the Hammock Pose, you may wish to affirm:
"In this moment, I release control to God/the Universe."
"In this moment I am deeply relaxed."
"In this moment I am free to be me."
"In this moment I am Home."
"I am grateful for this peaceful body moment."
"I am open to receive health and healing!"
Or you may wish to create your own mantra to help you be still and re-connect with your inner self and with God.

'May you empty your mind and deeply relax when you do the Hammock Pose. May you repose in your yoga cradle as you renew your inner spirit. May deep rejuvination be manifested when you spend this moment with your body!'



Body Moments Back Issues
For access to all back issues, and more Body Moments meditations, please click on the link, Body Moments, Back Issues.