The Body Window Newsletter
April 2, 2017
For this month, I have decided to continue the theme of spring growth, and how you can energize yourself, through your body, to meet the challenge of your own body-mind-soul growth process.
If you are not in the northern hemisphere, this Yin Yoga pose that I offer still applies. You can always use a little more positive energy, at any time, any place in your life. All new growth is always a spiritual process, and if you allow it, your body can help lead the way in this growth.
It is through intuitive body-work, a deeper connection to ourselves and the Divine, and not our minds or our thoughts, (to which we have learned to attach) that we may find a deeper healing, Peace, Love and Connection! Yin Yoga is a wonderful practice to help you with your inner connections!
If you tried last month's pose, the Twisted Roots Pose and found it to be too intense, this milder twist that I am featuring this month may be just the thing for you. If you also do the sequence that I suggest below, you will have a lovely short routine that you can use to open your heart, your chest, and all your internal organs.
As you practice this pose, keep your intent on a place for healing, by melting into your heart, and invite in all that brings you self-love, and that which revitalizes and is new!
As always, my wish for Body-Mind-Soul Health for you, Elle
PS, if you received this email as a forward from one of your friends, and would like to receive it yourself, please click here to subscribe!

The Quarter Dog Pose with a Twist
The Quarter Dog Pose with a Twist is a lovely pose that opens your side body and stimulates your internal organs. It is a mild twist, and should be the first one you try, if twisting is a difficult motion for you. Don't let the mildness fool you, it is still a very therapeutic pose.

"Live in harmony with the way and you will benefit. Struggle against the ways things are and you will suffer." ~ Bernie Clark, The Complete Guide to Yin Yoga

The opening of the body through the practice of Yin Yoga, done in a contemplative fashion, is healing indeed. Creating internal harmony through yin yoga poses helps you stay focused and present. If you are unfamiliar with the mindfulness practice of Yin Yoga, please click on the link to learn how it differs from the traditional yoga as practiced in the West. It is important that you understand how to perform a Yin Yoga pose to find just the right edge to be therapeutic.
Setting up the Quarter Dog Pose with a Twist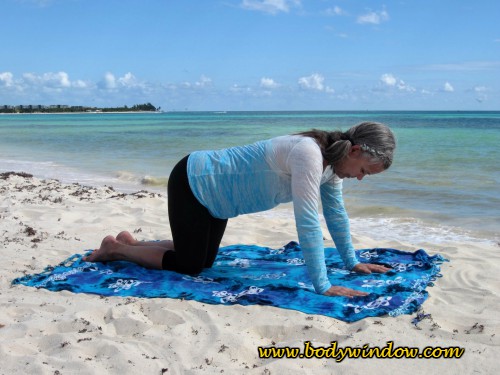 The Table Top Pose Starting Position
From the table top pose in the photo above, walk your hands forward, as you bring your chest toward the ground, keeping your hips stationary and high. If you sit back on your hips, this will be more like the child's pose. You know you have the pose right when you feel the opening through the chest and shoulders, instead of the hips.
Click this link to continue reading about this Yin Yoga pose at the Body Window website>>

Recommended Reading
My sister is a spiritual director, and has been deeply contemplating the political division in the USA that we have been currently experiencing, the resurgence of racial tensions, inappropriate social media etiquette from many people and how we have arrived at this polarity, not seen for many, many years.

Her words in her recent blog post, deeply resonated with me and my own contemplations, so I would encourage you to take a minute to read In the Midst of My Struggle.

This post is pertinent to everyone, everywhere, to better reflect from within our own hearts, how we can best live, undivided, in a world of diversity.



Thank-You for Sharing!
*Please feel free to share this newsletter freely with your friends, by forwarding this email, so they may also have a jump start on healing and health!
Also please take a look at my Facebook page by clicking on the link. It is perfect page to like for more frequent inspirations to help you live happy, healthy and whole: Body Window Facebook Page