The Body Window Newsletter
July 8, 2017
Summer is in full swing in the Northern Hemisphere, and most of us are running around enjoying life to its highest level. Vacations, projects, family gatherings, and generally enjoying the out-of-doors is what this season of JOY is about!
While it may be difficult for all of us, myself included, to put a little Yin into our lives, I would strongly encourage you to do so!
The pose I have selected for you this month, is the Quarter Dog with a Twist, also known as the "Melting Heart" in some traditions. This milder pose will help counteract all of your Yang activity, and bring you to a still place for a moment or two of opening and reflection. Take 5 minutes from your day to try it! You won't regret doing your home Yoga practice!
In great Love and Hope, Elle
PS, if you received this email as a forward from one of your friends, and would like to receive it yourself, please click here to subscribe!

The Quarter Dog With a Twist ~ AKA The Melting Heart
The Quarter Dog Pose with a Twist is a lovely pose that opens your side body and stimulates your internal organs. It is a mild twist, and should be the first one you try, if twisting is a difficult motion for you. Don't let the mildness fool you, it is still a very therapeutic pose.

"Live in harmony with the way things are and you will benefit. Struggle against the way things are and you will suffer." ~ Bernie Clark, The Complete Guide to Yin Yoga"

The opening of the body through the practice of Yin Yoga, done in a contemplative fashion, is healing indeed. Creating internal harmony through yoga poses helps you stay focused and present.

If you are unfamiliar with the mindfulness practice of Yin Yoga, please click on the link to learn how it differs from the traditional yoga as practiced in the West. It is important that you understand how to perform a Yin Yoga Pose to find just the right edge to be therapeutic.
Setting up the Quarter Dog Pose with a Twist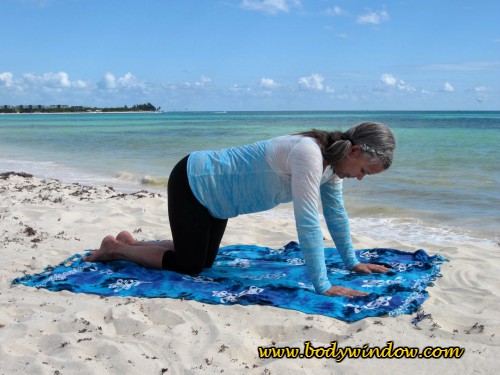 The Quarter Dog With a Twist, Starting Position
From the table top pose in the photo above, walk your hands forward, as you bring your chest toward the ground, keeping your hips stationary and high. If you sit back on your hips, this will be more like the child's pose. You know you have the pose right when you feel the opening through the chest, side body and shoulders, instead of the hips.
Click here to continue reading about the Quarter Dog with a Twist on my Body Window website >>


My Yin Yoga E-book
If you are in love with Yin Yoga, like I am, and would like a complete e-book, with all the poses, then consider purchasing mine! In one book, without ads, you will find a complete reference for the standard Yin Yoga poses. There is no form of yoga more healing than the Yin style. Over 125 pages of information on how each pose will affect what body system, which joints and muscles for special needs targeting.

This E-book is a compilation of all my Yin Yoga webpages, in a convenient PDF format, to download to your favorite device and take with you anywhere!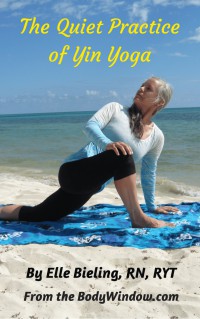 Reduced to $7.95 USD for my readers!
Thank-you for supporting my website!
Thank-You for Sharing!
**Please feel free to share this newsletter freely with your friends, by forwarding this email, so they may also have a jump start on healing and health! (And get a discount on my E-book while it lasts!)
Also please take a look at my Facebook page by clicking on the link. It is perfect page to like for more frequent inspirations to help you live happy, healthy and whole: Body Window Facebook Page